Shop Local Toronto /James Hewitt, Director, Founder of The RUN Gallery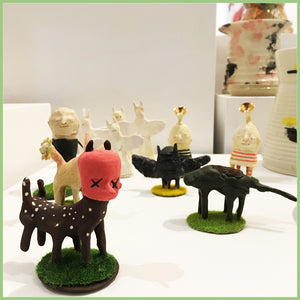 Shown in image is The RUN Gallery, 514 Annette Street, 437.991.2635, www.therungallery.com
During this current climate of Global Supply Chain deficits, it is even more important than ever to shop local. This act keeps money in the hands of local Torontonians, vs. Corporate Boardrooms. Most local businesses suffered significant losses during the numerous phases of the pandemic-driven lockdowns and therefore welcome and need your continued patronage.
One of the many benefits to shopping local is employment of local Torontonians, who benefit from local business employment significantly more than big box businesses. Employment at the local level is yet another empowering factor in the local tax base, which directly affects the community positively with annual charitable donations from local businesses far outweighing those from big box business.
Core spending demographics tend to gravitate towards One of a Kind shops, Farm to Table restaurants and smaller scale General Stores which often carry small independent makers and brands developed at the local level. Food purchased locally travels much less "food miles" to reach your plate and therefore creates a much smaller Green Footprint as it is produced in smaller batches. This reduces travel lengths, there is less harm to natural habitats and the overall ecosystem plus there is less need for overpackaging.
Unique, one of a kind businesses lend to the overall and distinct character of the city or town and is of far greater interest to consumers seeking to step away from the homogeny of big box stores and large corporations.
In the case of Vert Casse-Croûte + Catering this is very clear. Vert is the first catering company to use plant based tableware and specialises in Vegan menus, they are also members of 1% for the Planet. Setting a wonderful trend of going green, Vert has been successful in establishing a model for sustainability while reducing harmful damage to the precarious environmental situation. Food sourced locally and made with love shows a caring commitment to the health, well-being and happiness of their clients. Return customers who appreciate the amount of attention given to each individual and client is nearly impossible to find at a major retailer.
In the case of Arts and Culture, many businesses have made the major pivot from specialised shop or showroom, to general store and in the case of West Toronto's The RUN Gallery; a gift shop. Diversifying inventory helps sustain desirability and stocking independent makers and smaller brands helps bridge the art and object making population with the curious consumer looking for something unique versus run of the mill items, normally mass produced and lacking quality. 
There is a place for big box stores wherein there is a need for mass produced items sold at discounted rates for families and individuals in need of those services and sales. Shopping locally ensures a cycle of spending which keeps the money in the community for much longer as there is a likelihood that as you support small businesses, you are therefore supporting the chain of smaller businesses which rely on each other and therefore support each other's success. Support is cyclical, necessary and enriches your community infrastructure, thus benefitting most residents. 
Leave a comment
Comments will be approved before showing up.